Discover more from Sidebars
Expert insights on white collar crime and white collar criminals from Randall Eliason, former Chief of Public Corruption at the D.C. U.S. Attorney's Office and white collar criminal law prof at George Washington University Law School.
Over 2,000 subscribers
Corruption in Congress: Chris Collins and Duncan Hunter
Two sitting Republican members of Congress were indicted last month in separate cases, one in New York and one in California. In normal times this would be monumental news; it's not often that a Congressman faces criminal charges, much less two in the same month. But in our current political climate, the cases barely registered as blips on the political radar. Both indictments tell compelling tales of greed and Congressional corruption. They also provide encouraging signs that, despite president Trump's personal contempt for the rule of law, his Department of Justice can still function without regard to politics.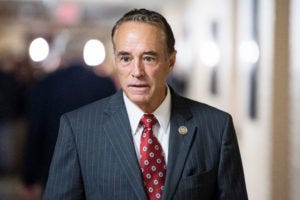 Rep. Chris Collins (R-N.Y.)
The Christopher Collins Case
Chris Collins has been the Congressman from the 27th District of New York since 2013. He also serves on the board of Innate Immunotherapeutics Ltd, an Australian company whose shares are traded in the United States. On August 8 Collins, his son Cameron, and Cameron's father-in-law Stephen Zarsky were indicted for insider trading and related charges by the U.S. Attorney for the Southern District of New York. The charges are based on their dumping of Innate shares just before the company released bad news that sent the stock price plummeting. Innate's main product was a drug that was supposed to treat multiple sclerosis. In the spring of 2017 it was completing a phase 2 drug trial to test the drug's efficacy, the next step toward getting it approved for sale to the public. But in June results came back showing the drug had failed the trial and had shown no beneficial effects. That news, once it became public, caused Innate's stock price to drop by a whopping 92%. Congressman Collins, as a board member, learned about the failed test results before they were made public. On June 22, while he was at the Congressional picnic at the White House, he received an email with the bad news. Although Collins was one of Innate's largest shareholders, he could not sell his own shares because they were held in Australia, where trading had already been halted (although the reason had not yet been disclosed). He was also constrained by the fact that his activities related to Innate were already under scrutiny by the Office of Congressional Ethics. But the Congressman made seven phone calls to his son Cameron, also a shareholder, until he finally reached him and told him the news. In the next few days, and before the news became public, Cameron sold about 1.4 million U.S. shares of Innate in dozens of separate trades. By selling before the news broke, he avoided losses of more than $570,000. Cameron also tipped his father-in-law Zarsky, who sold his shares and avoided losses of about $143,000. Count one charges all three defendants with conspiracy to commit securities fraud by insider trading.  Counts two through eight are separate counts of insider trading against Cameron and/or Zarsky, with Congressman Collins also charged in each count as an aider and abettor. Counts nine and ten charge all three with conspiracy and wire fraud for defrauding Innate of confidential business information and converting it to their own use. Finally, counts eleven through thirteen charge each defendant separately with false statements for lying to the FBI when they were interviewed about the basis for their trades and denied acting on any inside information. This is a "tippee/tipper" case – the Congressman, as the insider, disclosed confidential information to his son knowing that he would trade on the information. In such a case the recipient of the tip is liable for insider trading – even though not an insider himself – if the tip was made in violation of a fiduciary duty owed by the tipper and the tippee had reason to know that. As the Supreme Court recently clarified in Salman v. United States, a tipper violates his duty to the corporation if he acts for some personal benefit rather than for a legitimate corporate purpose. That can include the intangible benefit of helping a family member profit from the inside information. Here the Congressman was acting to help his son avoid a big financial hit, not for a legitimate corporate purpose. So even though the Congressman didn't sell his own stock (as his lawyer has repeatedly emphasized since he was charged) he is liable as the tipper for conspiracy and for aiding and abetting the insider trading by those he tipped. His son, as the tippee, is also liable because he knew his father's actions were improper. Zarsky is similarly liable as a remote tippee – receiving the information from Cameron while knowing its source. Interestingly, there are six other family members and friends who were also tipped by Cameron and Zarsky and sold their stock but are named as unindicted co-conspirators and not charged. This may be in part because their trades were relatively small and in part because prosecutors recognized it might be hard to prove their required knowledge about the source of the information (for example, the indictment alleges Zarsky contacted his brother and sister and told them to sell but not to ask why). Some of these unindicted co-conspirators may have been granted immunity and could be cooperating with prosecutors. The case appears very solid – there are no apparent defenses that leap off the page. The charges that the defendants all lied to the FBI provide further evidence of their knowledge of the improper basis for the trades. Congressman Collins has dropped his re-election bid for this fall, and I'd expect guilty pleas. Perhaps the case will also lead to some reforms prohibiting Members of Congress from serving on corporate boards.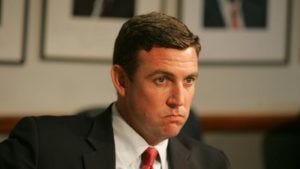 Rep. Duncan Hunter (R-CA)
The Duncan Hunter Case
Congressman Duncan Hunter has represented a Congressional District in Southern California since 2008. On August 21 he and his wife Margaret were indicted by the U.S. Attorney for the Southern District of California for stealing about a quarter of a million dollars in campaign funds and using them for various personal expenses over more than six years. Federal campaign finance laws prohibit candidates from using campaign money for personal expenses that would be incurred even in the absence of the campaign. The indictment charges that the Hunters were essentially broke. They had overdrawn their bank account more than 1000 times, resulting in more than $37,000 in overdraft fees, and had multiple credit cards maxed out with five-figure balances. They allegedly used campaign funds to pay for personal expenses they could not otherwise afford, including family vacations, school tuition bills, dental work, and scores of smaller bills for things like restaurants, golf, movie tickets, and groceries. The indictment alleges that both Hunters repeatedly lied to their campaign treasurer by claiming certain expenses were campaign related. (That treasurer, by the way, was either willfully looking the other way or has to be the most gullible person on earth.)  In one incident they spent $700 in campaign funds at a family dentist and falsely reported it as a charitable donation to "Smiles for Life." On another occasion Margaret encouraged Duncan to buy clothing at a golf store so they could falsely list the expenditure as buying golf balls for wounded warriors. Count One charges both Hunters with conspiracy to commit four different crimes: misuse of campaign funds, wire fraud, false entries in FEC reports, and bank fraud (for lying about campaign credit card charges and claiming they were unauthorized). Counts 2-44 charge separate counts of wire fraud for credit card transactions and emails related to particular purchases involving illegal uses of campaign funds. Counts 45-57 charge thirteen different instances of filing false campaign expense reports with the Federal Election Commission. And counts 58-60 are separate counts of illegally using more than $25,000 in campaign funds for the calendar years 2014, 2015, and 2016. These charges also seem rock solid and prosecutors appear to have assembled a formidable paper trail. Hunter for now has refused to abandon his re-election campaign, has claimed the charges by the Republican Department of Justice are politically motivated, and has suggested his wife may be responsible for any improper expenditures. (In legal circles, this is known as the Bob McDonnell "throw your wife under the bus" defense.) Once again, I'd be surprised if this case ends up going to trial.
The Department of Justice and President Trump's Tweet
The timing of these indictments is interesting in light of all the recent discussion in connection with the Mueller investigation about DOJ's so-called "60 day rule" involving elections. There is a general (but unwritten) policy within DOJ to avoid major prosecutorial steps that might affect an election in the two months or so leading up to that election. That rule is particularly important when the defendant himself or herself is on the ballot. Here it appears that policy was followed, with both indictments being returned in August before the post-Labor Day run-up to the November midterms. The cases also demonstrate that pursuing solid corruption cases is still possible under the right circumstances. The Supreme Court has made prosecuting such cases more difficult over the past twenty years, most recently with its decision in the Bob McDonnell case restricting the scope of federal bribery law. But prosecutions of other species of corruption and misuse of official power are fortunately still alive and well. What actually got these cases the most attention is a recent Tweet from President Trump: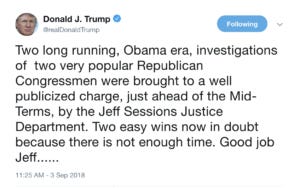 As many have pointed out, this Tweet is startling for what it says about Trump's view of the Department of Justice and the rule of law. He essentially accuses his Attorney General of being disloyal for not allowing political considerations to enter into his prosecution decisions. (It's also worth noting that, at least as to Collins, the misconduct took place in 2017, not during the Obama administration, so the Tweet is inaccurate.) Trump has been famously furious with Sessions for recusing himself from the Russia investigation and failing to "protect" Trump. Nearly two years into his presidency, Trump apparently still has no appreciation for the proper role of the Attorney General and the need for political independence in the Justice Department. Fortunately, Trump's views do not appear to be shared by Sessions or by the Department of Justice more broadly. These indictments of Republican Congressman had to be approved by Trump's own appointed Republican U.S. Attorneys in those districts. They also would have been approved at the highest levels of Main Justice in Washington. It's an encouraging sign that political considerations apparently did not enter into the decisions to prosecute. That is, of course, the way it's supposed to be. Once again, Jeff Sessions has emerged as an unlikely hero in defending the rule of law against the assaults by his boss.
Like this post? Click here to join the Sidebars mailing list